LES TROIS DIABLES ROUGES (Daredevils of the Red Circle) de William Witney et John English (USA - 1939)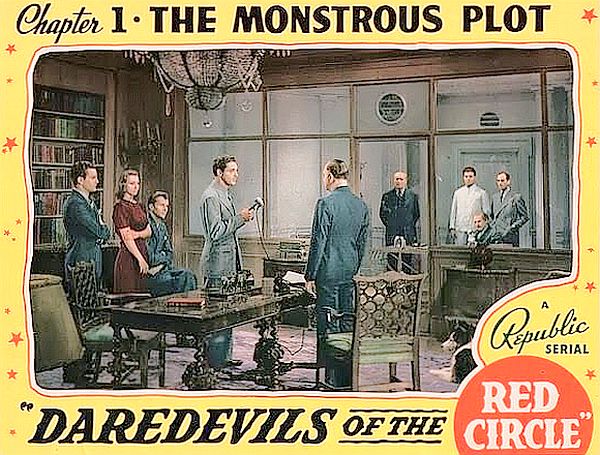 Feuilleton "serial" policier et d'aventures en 12 épisodes de 15 mn env. en NB-VO-ST avec Charles Quigley (le "Daredevil" Gene Townley), Robert Winkler (Sammy Townley, son frère), Herman Brix (le "Daredevil" Tiny Dawson), David Sharpe (le "Daredevil" Burt Knowles), Carole Landis (Blanche Granville), Miles Mander (Horace Granville/39013 maquillé en Granville), Charles Middleton (Harry Crowl alias 39013), C. Montague Shaw (le Dr Malcolm), Ben Taggart (Dixon), William Pagan (le chef de police Landon), Raymond Bailey (Stanley, secrétaire de Granville et complice de 39013), Corbet Morris (Klein, complice de 39013), George Chesebro (Sheffield,complice de 39013), Broderick O'Farrell (l'avocat Graves), Ray Miller (Jeff, l'infirmier d'Horace Granville), Truda Marson (l'infirmière Benson), Stanley Price (le Professeur Selden), Monte Montague (Tom)
Harry Crowel, un forçat évadé connu sous son numéro de matricule, 39013, a juré de se venger du milliardaire Horace Granville qui l'a fait condamner. Il le séquestre dans sa propre maison, prend sa place et son apparence, et entreprend de détruire son patrimoine. Son premier objectif est un parc d'attractions où se produisent trois acrobates, des athlètes qui défient la mort en exécutant un numéro périlleux. Ces trois casse-cou vont joindre leurs efforts à ceux de la police pour tenter d'arrêter Crowel, qui tente de saboter méthodiquement les affaires de leur patron. Mais un mystérieux cercle signalant tel ou tel article de journal met à chaque fois les trois héros en mesure de contrecarrer les plans du malfrat...

Ce feuilleton a été diffusé en France par la R.T.F. en 1949 puis en 1962, puis en 2002 par Paris Première (sources : page Wikipédia du film et site IMDB). Plus de détails et une critique de ce serial sur ce blog : cliquer ici
Liste des épisodes :
1 Un complot mystérieux (The Monstrous Plot)
2 L'ami mystérieux (The Mysterious Friend)
3 Le Bourreau (The Executioner)
4 Sabotage (Sabotage)
5 Le rayon de la mort (The Ray of Death)
6 30 secondes à vivre (Thirty Seconds to Live)
7 La mine engloutie (The Flooded Mine)
8 S.O.S. (S.O.S.)
9 L'échelle du péril (Ladder of Peril)
10 La machine infernale (The Infernal Machine)
11 Le cercle rouge parle (The Red Circle Speaks)
12 Destination catastrophe (Flight to Doom)